Touring Topaz 2015
Sept 18, 20, 21 2015
Topaz Lodge
US Highway 395 South
Topaz Lake, NV&CA

Manx Club will be hosting "Touring Topaz" starting Friday, Sept 18, 2015 thru Sunday, Sept 20, 2015. Vic Wilson, Bob Hunter and Paul McCain would like to invite all Manx Club members to beautiful Topaz Lake for a weekend of relaxing and fun buggying. Richard Cushman will be leading the "Cruz to Topaz 2" group from SoCal again. Contact Richard to arrange meeting times and requirements. His number is (951)830-0992. Email-cruztotopaz@gmail.com
The Topaz Lodge Resort and Casino is located along highway 395 right on the California/Nevada State line.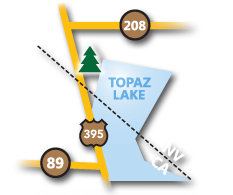 They have set aside rooms and RV spaces at a special club rates. Rooms are $75 + tax per night and RV spaces are only $15+tax for full hookups per night. Just tell them that you are with the Manx Club. The Topaz Lodge has a restaurant, casino, Chevron gas station, a general store. Please check out their website at  www.Topazlodge.com
Call 775-266-3338 to reserve a room, 775-266-3337 for RV reservations.
There is a county park on the other side of Topaz. Topaz Lake Park has RV spots and tent camping. RV reservations are required within 7 days. Dry camping is available without reservations.
Call Douglas County Parks at 775-782-9835 for more info or reservations
When you arrive, check in with the lodge or RV park first. When you get settled in, WALK over to RV space #5 and check in with the club.
Saturday morning Show and Shine will be in the parking lot next to the Chevron gas station. Please leave this area for buggy parking. Cars, trucks and trailers can be parked behind the hotel buildings on the lower road. Help me out and let others know.
We will have 3 groups to sign up for Saturday run. One highway/poker run to Angel Lake for lunch for the street buggies, the two other groups are off road. Due to the trail similarities, both groups are about the same in off road challenges and difficulties. We will try not to break anything but you never know.  You will be able to sign up for a group Friday when you check in and Saturday morning during the show and shine.
Drivers meeting is at 930am Saturday. It is very important that everyone attends and participates. CB Radios are not mandatory but highly recommended. Cell phone service is spotty. September weather could change quickly to very cold. Bring warm clothes.
Please have your buggies ready and lunches packed before 930am Saturday.
We will not be having a private Manx Club dinner Saturday night. Instead, the restaurant will be serving an "All you can eat Seafood and Ribeye steak buffet". The cost will be $20 per person. RV potluck is an option also. It's up to you.
Sunday we will take a cruise down to the lake for some pictures and then give out awards and raffle prizes. We should be wrapping things up around 1100am.
When you get your registration, get it filled out and mailed back to me by the deadline September 4. I have to have the shirt order in by that deadline. Paul will print on your hoodie, tank or anything else as long as it is new, cotton and a dark color. If you want to mail your stuff to me, I will get it to Paul. The cost is $15 per item.
Remember; get that registration form to me by the deadline September 4. Even if you aren't sure you are going to make it, mail it in anyway. I can refund most of your entry fee if you don't make it.
I know I forgot to put something on this so email me at
rhunter8037@sbcglobal.net with your questions. You can call me too. (775)771-6428.
Remember to have your membership paid up before you get here.  It will be less work for me and Lori Ann to do while we are checking you all in. We appreciate it.
Thanks and see you all in Topaz!
Bob Hunter